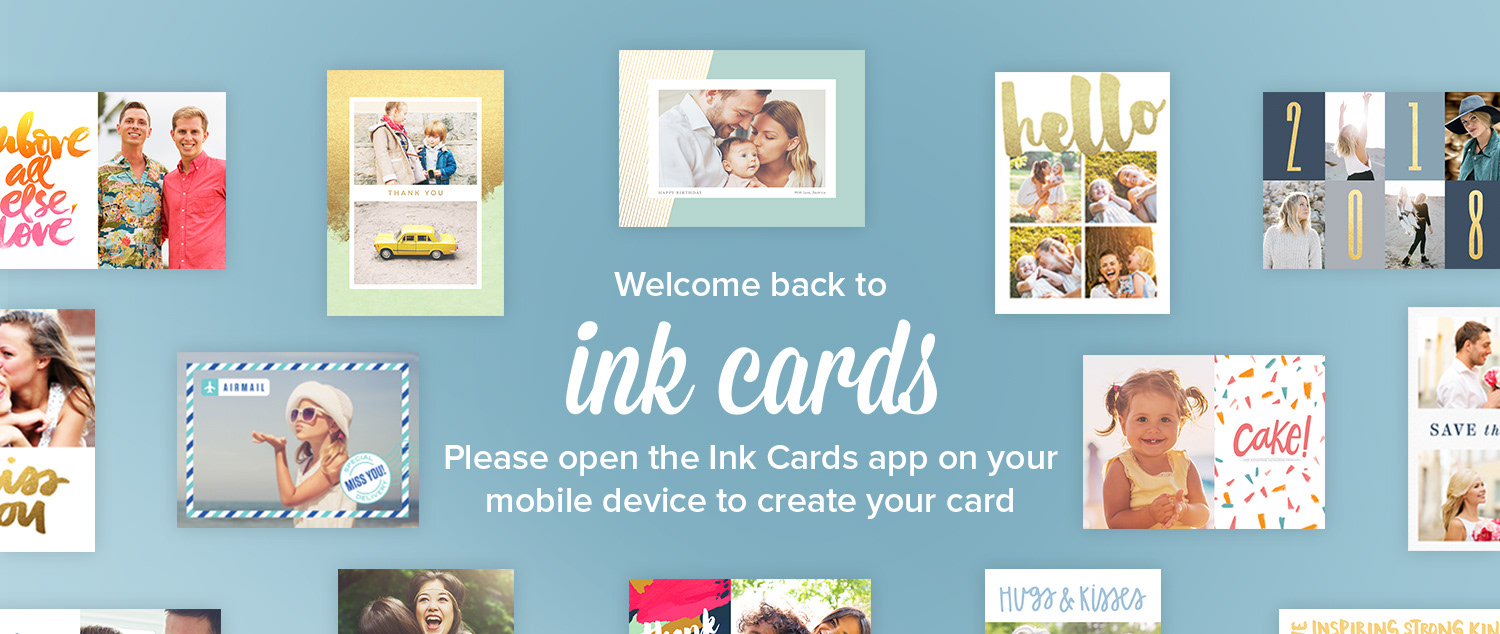 Hundreds of Customizable Designs
Choose from a stunning collection of over 500 designer cards for every occasion. Starting at $2 each in the US and $3 internationally (postage included).
Role: UX UI Designer for Adding New Signatures & Custom Messages
Adding Multiple Signatures to the 
Signatures already existed in the INK app before, but was a limited feature because a user could create a signature, but if they wanted to add another one, they would have to delete that signature and replace it with another one.
•  Would allow a customer to edit each signature individually.
•  Allow a customer to delete individual signatures.
•  Allow a customer to delete individual signatures.
•  Have a default and a select/add a new signature
•  Add a signature through a camera

After some research on the topic and dealing with this issue myself personally with other apps, I created several flows in Sketch using our existing screens.  Initially, I provided four user flow concepts with various ways to implement the UI using native branded UI and OS or system operated UI, both ways have been used in the app for other features.  Initially we presented v1 & v3 as options.  In the end our product development team agreed that selecting a signature should remain outside of the signature editor and I agreed as well and so I presented v2 as an option.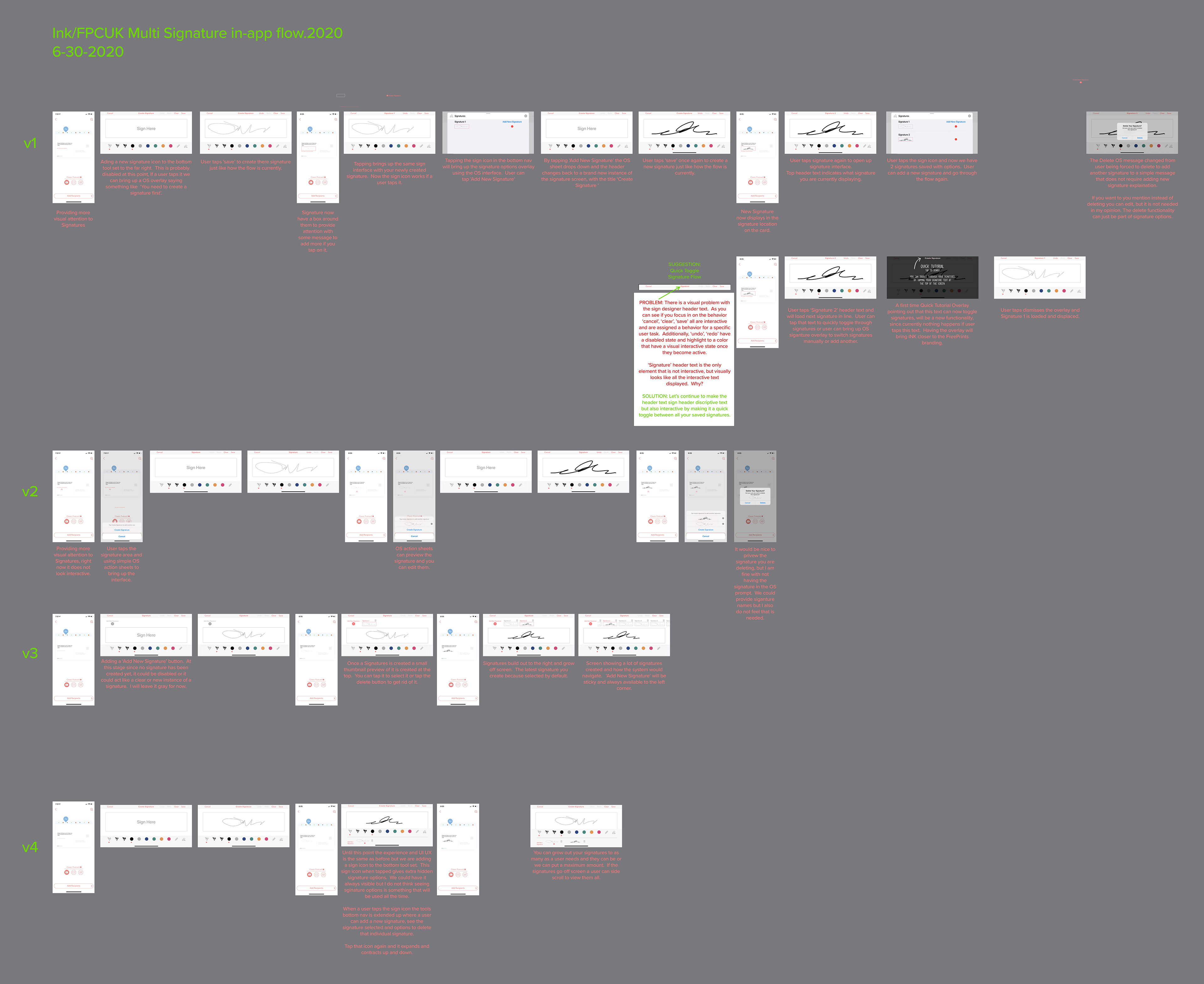 Refinement of the v2 Concept 
v2 used the iOS Views/ Action Sheet  to build the signature system.  Using the previous signature system and trigger, we would bring up the Action Sheets to create a new signature to launch the Signature Editor Screen.  Once a signature was created every time a user taps the signature you would see a preview of your signature in the iOS Action Sheet.  To delete your signature or anything related to editing your signature you would go to the Signature Editor clear your signature and delete it from there.  This flow cleans up our previous delete functionality.  Our delete overlay would present itself over the Signature Editor.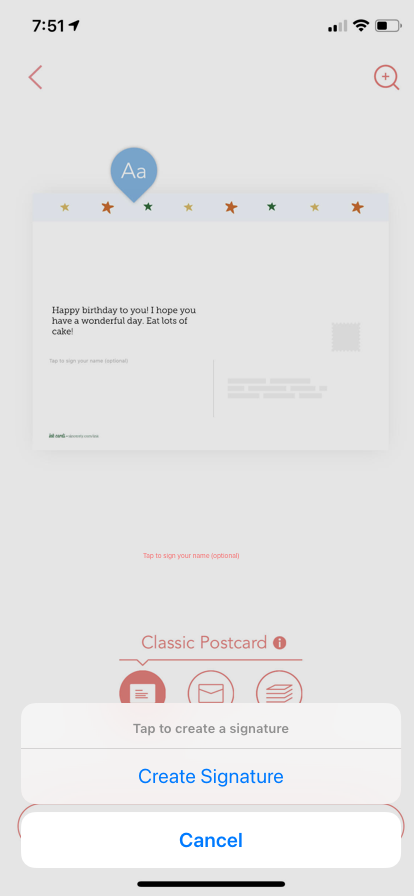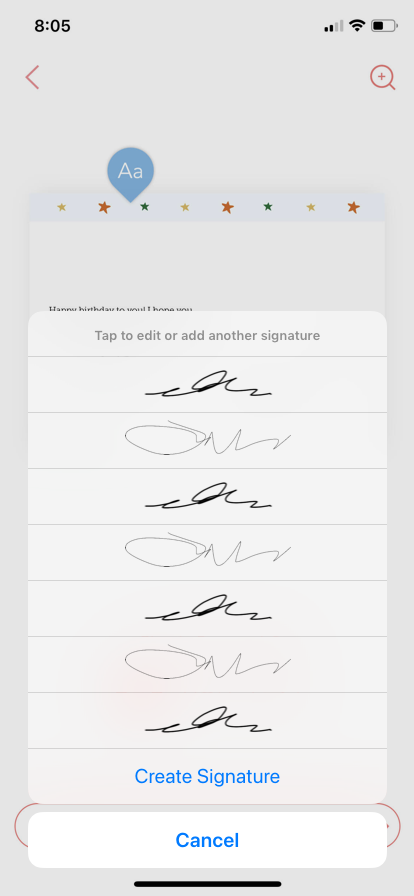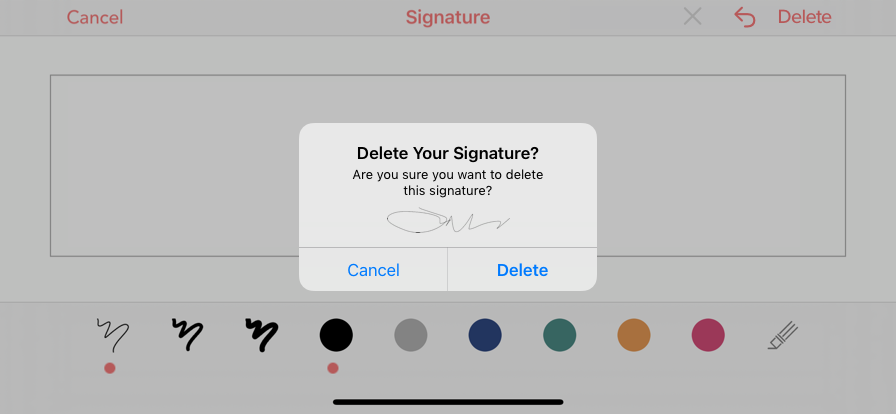 Adding Multiple Messages to the 
Messages already existed in the INK app before, but usually was created on one card design.  You could already add multiple recipients that you wanted to send that card too as well.  This new feature would allow a user to create various personalized messages for each recipient which move the app even further towards a better personalized and custom experience.
•  Researched how this flow could work using the Simply To Impress platform.
•  Explored various ways to to surface this within the existing app.
•  Eventually decided that it should live in the Recipient UI.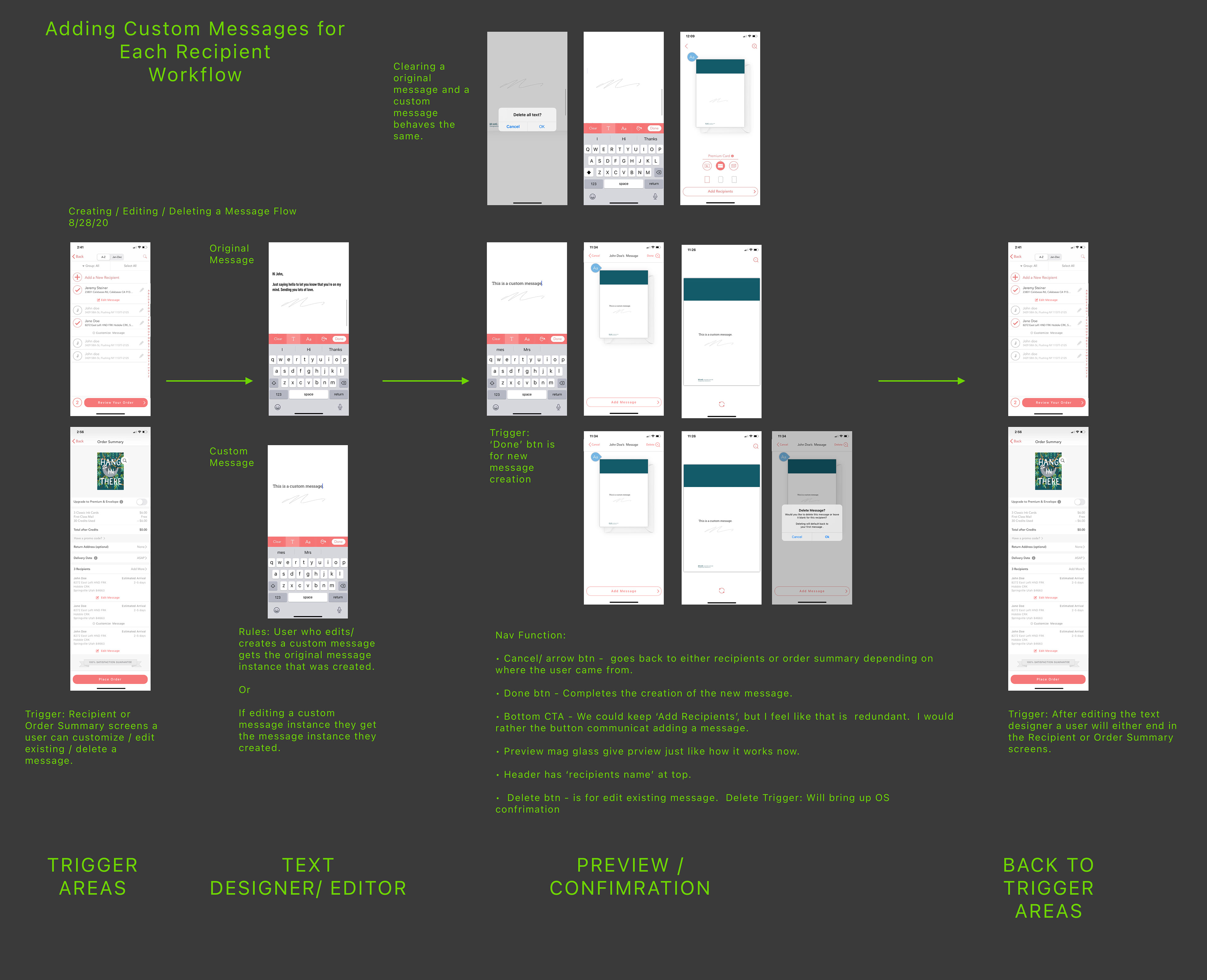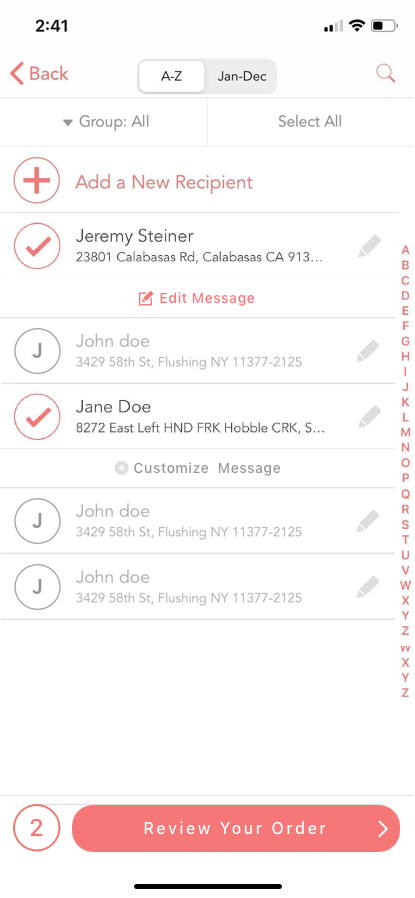 Adding a Signature through a camera
•  The product team wanted to add signature capture tool using the phones camera operating system.
•  Referencing Mac camera signature tool in the Preview app  in order to capture this.
•  Provide a camera trigger button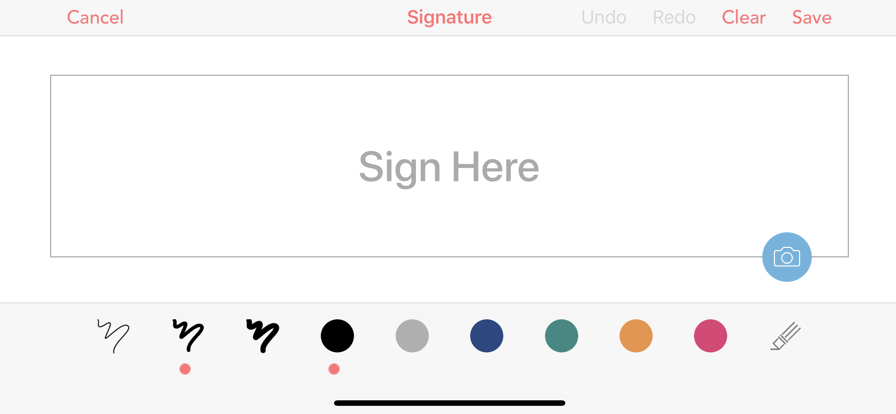 Dec. 2020: App Store Favorites Highlight
INK Cards recently received some attention from Apple's App Store in the favorites section.  I know that I am not fully responsible for the entity of success of the app, but I do like to think that my small contribution to the app helps contribute to it's success.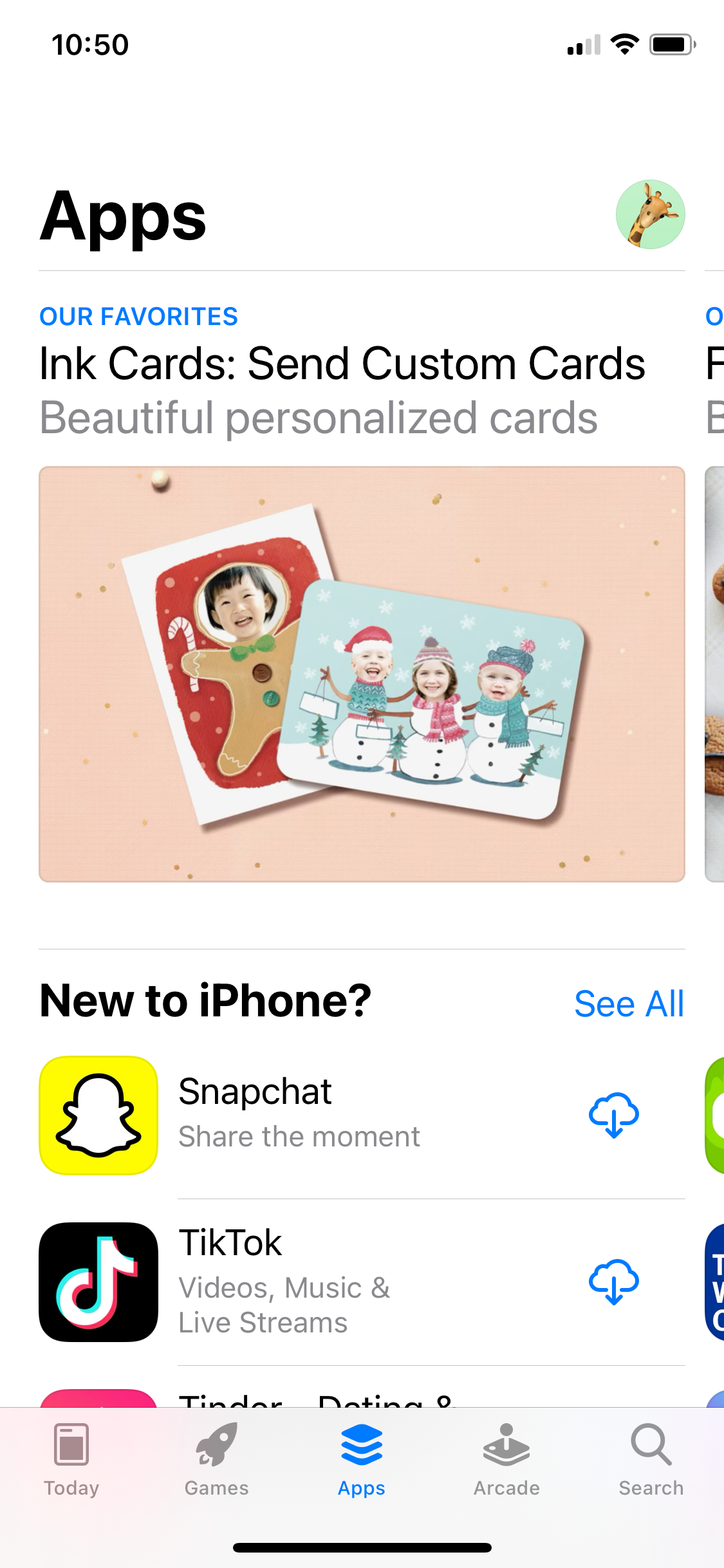 Copyright © 2012-2020 PlanetArt, LLC. All rights reserved. FreePrints and the FreePrints logo are trademarks or registered trademarks of PlanetArt, LLC.