Adding "REMINDERS" FEATURE to the INK Cards App
Problem:


The product team decided that we needed to renew focus on "Reminders" because they are essential for customer relationship management (CRM) and push notifications that will generate repeat buisness for our app cards business.
• No entrance to view and manage reminders
•
No way to view reminders chronologically
•
Not easy way to delete reminders
•
No relationships
•
Currently reminder users 10 days before start of the "Birthday Month". This could be 40 days out.
Solution:
I developed a new feature and workflow for users to help with engagement, create a location to view all reminders, and help add relationships to our already existing contacts flow.  One of the first improvements was to add this very important feature to our core nav and create an environment for users to engage with this feature. The next question was what information does the user potentially need right now we the possibility of having more than 400 contacts.  It came down to what is reminder dates are upcoming and what holidays are we in right now.  The next filtering came down to searching for your contact by person, rather than date.
Definition of Success:
I define success of this feature because I think we really improved the app by allowing users to add multiple reminders and assign or tag a relationship to your contacts.  The users now have a feature they can check regularly or be notified if allowed by the user so they will never miss an important date to send their loved ones a special card.  The feature is live and we have great engagement with the feature and it was implemented exactly the way it was thought up and designed.
For: PlanetArt, Inc. LLC.
Duration: 3 months in 2021
Type: Print on Demand B2C Native App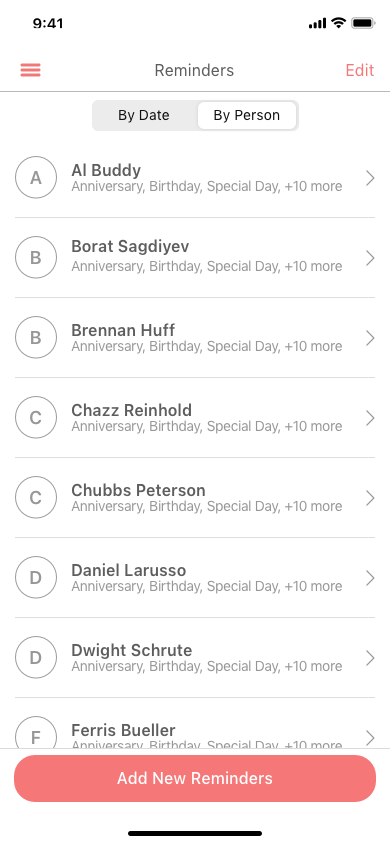 _________________________________________________________________________
Adding Multiple Signatures to the INK Cards App
Signatures already existed in the INK app before, but was a limited feature because a user could create a signature, but if they wanted to add another one, they would have to delete that signature and replace it with another one.
•  Would allow a customer to edit each signature individually.
•  Allow a customer to delete individual signatures.
•  Allow a customer to delete individual signatures.
•  Have a default and a select/add a new signature
•  Add a signature through a camera
Problem:


Adding multiple signatures.  The current implementation was that a user could create a signature and save that one unique signature.  If a user wanted to change the signature or create a new one, the user would be forced to delete the existing one and replace it with an updated signature.
Solution:


The goal was to develop a tool that would support multiple save signature profiles.
Definition of Success:


The feature was approved widely accepted by the product and CEO and is currently an enhancement to the product and is widely engaged by its users.
• In Contacts, show the cards that have been sent to each contact
• 
Prevent a user from sending the same card
For: PlanetArt, Inc. LLC.
Duration: 3 months in 2020
Type: Print on Demand B2C Native App
After some research on the topic and dealing with this issue myself personally with other apps, I created several flows in Sketch using our existing screens.  Initially, I provided four user flow concepts with various ways to implement the UI using native branded UI and OS or system operated UI, both ways have been used in the app for other features.  Initially we presented v1 & v3 as options.  In the end our product development team agreed that selecting a signature should remain outside of the signature editor and I agreed as well and so I presented v2 as an option.
Refinement of the v2 Concept
v2 used the iOS Views/ Action Sheet  to build the signature system.  Using the previous signature system and trigger, we would bring up the Action Sheets to create a new signature to launch the Signature Editor Screen.  Once a signature was created every time a user taps the signature you would see a preview of your signature in the iOS Action Sheet.  To delete your signature or anything related to editing your signature you would go to the Signature Editor clear your signature and delete it from there.  This flow cleans up our previous delete functionality.  Our delete overlay would present itself over the Signature Editor.
Adding a Signature through a camera
•  The product team wanted to add signature capture tool using the phones camera operating system.
•  Referencing Mac camera signature tool in the Preview app  in order to capture this.
•  Provide a camera trigger button
Dec. 2020: App Store Favorites Highlight
INK Cards recently received some attention from Apple's App Store in the favorites section.  I know that I am not fully responsible for the entity of success of the app, but I do like to think that my small contribution to the app helps contribute to it's success.
Copyright © 2012-2020 PlanetArt, LLC. All rights reserved. FreePrints and the FreePrints logo are trademarks or registered trademarks of PlanetArt, LLC.